Shale-oil and -gas production in the U.S. has been revered by some as the fuel, engine and vehicle driving the nation toward energy independence and economic solvency. Astronomical estimates of reserves, millions of high-paying new oilfield jobs, enhanced competitiveness for American industry, greater tax inflows for state and federal governments, and incremental export revenues certainly justify the volume of discussion.
Shale has at once become both disruptive and transformative. It's also here to stay. IEA estimates the share of U.S. shale oil and gas production to double by 2035.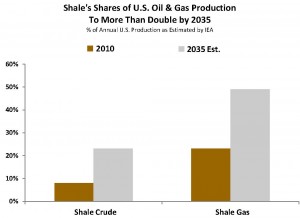 Meanwhile, estimates place the world's combined shale-related reserves as equal to or even larger than reserves in North America. Still, the rest of the world trails both in development of shales and other non-traditional carbon resources as well as in the use of highly developed methods like hydraulic fracturing needed to extract them.
As we see it, the overwhelming economic potential all but guarantees, at least eventually, high levels of shale development in other corners of the globe. Some regions may be extra guarded in adopting processes met with significant concerns, even opposition, over possible effects to the environment. But in times of pandemic recession and tenuous geopolitical proceedings, shale's economic promise seems too great for all to ignore. The high price of natural gas in other countries certainly seems to support this notion as well (see below).

The abundance of potential shale plays around the globe makes itanyone's guess as to which regions will embrace the shale future most quickly and in the most determined manner. Our data suggest the more sure bet is on the importationof shale-oriented expertise possessed by North American oilfield suppliers as international and state-owned E&P companies dare not go it alone.
Just as Texas-born drill bits helped open the world's oilfields for exploitation decades ago, fracturing and other shale-oriented products and services perfected in the U.S. are now poised for second lives of purpose and prosperity overseas.
Interested in EnergyPoint presenting to your organization?
Click here to find out more.
Why are we so confident international shale plays portend a veritable bonanza for oilfield suppliers? Because we've seen the performance data, and they tell a compelling story across the spectrum in terms of overall satisfaction, performance, reliability, technology and engineering. What's more, the performance data exist across contract drilling, oilfield services and equipment manufacturers.
Clearly, oilfield suppliers and E&P companies have worked well together when it comes to shale development in North America. The record by our account reflects that suppliers have outpaced their own performance across nearly all aspects of non-shale-related applications.
North American E&P companies and their supplier partners are the de facto world leaders in managing shale and other unconventional fields because of the continent's early discovery and ready exploitation of such resources. Their advantage goes beyond a simple head start.
As ExxonMobil CEO Rex Tillerson told Fortune Magazine in its April 16, 2012 issue, "[Foreign governments and NOCs] admire our industry because of what we can do. They are almost in awe of what we are able to do.
Industry suppliers deserve a lot of the credit. And it's our belief that they and their stakeholders will benefit enormously as the global shale saga advances.
E&P companies with experience in North American shale have already begun planting proverbial stakes in fields across the globe. As a result, shale-related investment seems poised to materialize, at least in the longer term, in places like China, India, and parts of Africa and Latin America.
As carbon extraction is an extraordinarily cooperative process, every play that is developed internationally presents a growth and profit opportunity for oilfield suppliers owning expertise in shale. Onshore contract drillers like Helmerich & Payne, Nabors Industries and Precision Drilling — which offer unmatched know-how when it comes to efficiently and dependably drilling shale-oriented wells — should be commonsense participants in the process (read our latest thoughts on contract drillers here).
Pason Systems, the highly rated maker of controls and instrumentation for drilling rigs, will also be invited to the party. And the products and services of Newpark Resources, a standout in drilling fluids, will be in demand. The right drill bits will certainly be required, which will be good good news for Baker Hughes and Schlumberger.
Halliburton, the acknowledged leader in hydraulic fracturing, is very well positioned to benefit as demand unfolds internationally. And should they choose to participate, other independent providers with bone fide North American hydraulic fracturing and related experience could be in the mix as well.
The list goes on.

EnergyPoint's research also confirms the best performers inthe oilfield supplier community tend to earn the highest investor returns over time, and vice versa (read more). Given the potential size of the global shale plays, these patterns seem destined to only deepen with time.

Note – This post was originally published on this site October 24, 2012.